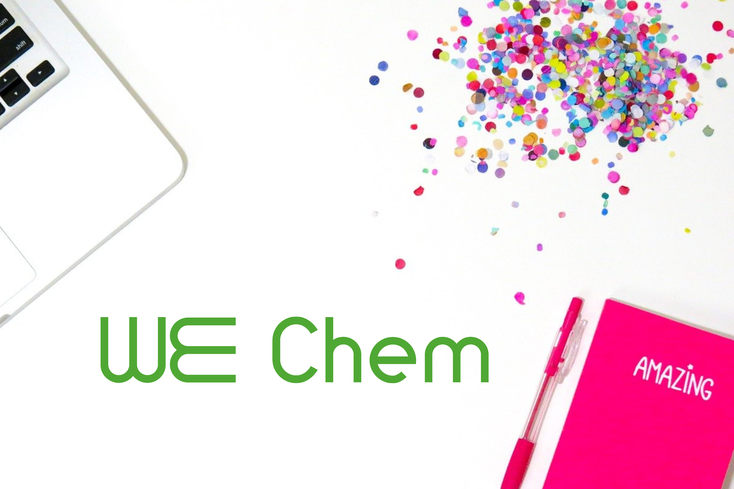 Wir wünschen Ihnen ein frohes neues Jahr!
Das Jahr 2021 ist schon 4 Tage alt und der erste Arbeitstag neigt sich dem Ende.
Zeit einmal kurz durchzuatmen und zurückzublicken:
"Jetzt schon?" , mögen einige vielleicht denken.
Die Antwort ist ein ganz klares JA!
Denn wir wollen die Neujahrsgrüße mit einer kleinen Geschichte verbinden, wie wir zu unserem Namen gekommen sind:
Nach einer Geschäftsreise saß einer der Geschäftsführer Uwe Marburger zusammen mit seiner Tochter Alison Marburger am Flughafen. Beide warteten auf den Flug nach Hause in einer Lounge.
In einem spontanen Brainstorming enstand die Idee, die beiden Großbuchstaben "W" wie Windhoevel und "M" wie Marburger in den Firmennamen mit einzubeziehen. So sollte eine Verbindung zwischen den beiden Geschäftsführerfamilien und dem Unternehmen hergestellt werden.
Gleichzeitig geisterte der Name WE Chem schon länger in der Gedankenwelt  herum. Doch wie sollte man all  dies auf Papier bekommen und in Form eines Logos verpacken?
Das schöne an Geistesblitzen ist, dass sie einen unvorbereitet treffen. So geschah es auch mit Alison, die plötzlich einen kreativen Einfall hatte. Da sich nichts geeignetes in der Nähe befand, musste also eine Flughafen Serviette herhalten, um den allerersten Entwurf unseres Logos festzuhalten:
WE Chem war geboren (zumindest im Geiste).
We wish you a happy new year!
The year 2021 is already 4 days old and the first working day is coming to an end.
Time to take a deep breath and look back:
"Already?" some may think.
The answer is a resounding YES!

Because we want to combine our New Year's greetings with a little story about how we got our name:

After a business trip, one of the managing directors Uwe Marburger was sitting at the airport together with his daughter Alison Marburger. Both were in a lounge waiting for the flight home.

In a sudden brainstorming session, they came up with the idea of including the two capital letters "W" for Windhoevel and "M" for Marburger in the company name. This was intended to create a connection between the two Managing Director families and the company.

At the same time, the name WE Chem had been on their minds for some time. But how could all this be brought down on paper and presented in the form of a logo?

The nice thing about flashes of inspiration is that they catch you off guard. That's what happened to Alison, who suddenly had a creative idea. With nothing suitable nearby, an airport napkin had to be used to capture the very first draft of our logo:

WE Chem was born (at least in imagination).