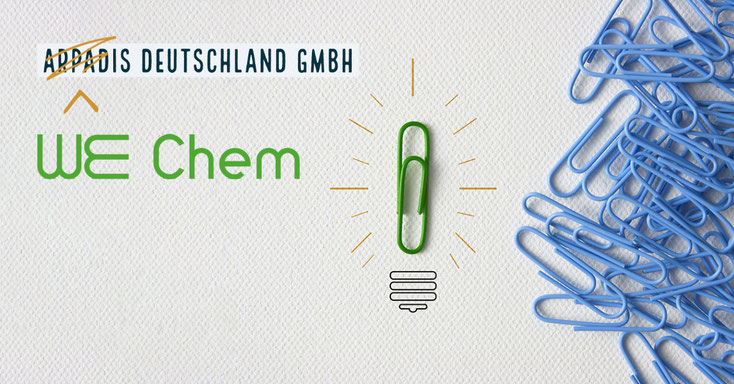 Gestatten, wir sind Jetzt WE CHem!
Liebe Kunden, liebe Lieferanten, liebe Spediteure, liebe Lagerhalter, liebe Zulieferer, liebe Dienstleister,

in der Chemiebranche dreht sich gegenwärtig alles um Innovationen, Herausforderungen, REACH, Umbruch, Digitalisierung, Nachhaltigkeit, Chemie 4.0. und um Covid-19.

Natürlich bewegen uns diese Themen genauso sehr wie Sie.
Wir wollen Ihnen aber heute mit diesem Beitrag eine ebenso wichtige und spannende Neuigkeit mitteilen:

Aus der Arpadis Deutschland GmbH wird WE Chem Deutschland GmbH [wiː kem]!
Dies bedeutet uns sehr viel und wir freuen uns nun, dass dies ab dem 01. Januar 2021 Realität wird. Eins sei vorab gesagt: Unser Name ändert sich, aber unsere Ziele rücken von da an noch mehr in den Fokus. Gemeinsam mit Ihnen allen wollen wir in dieser spannenden Zeit, in der wir uns befinden, jetzt noch mehr durchstarten.

Walt Disney sagte einst: "Wir bewegen uns weiter vorwärts und öffnen neue Türen, weil wir neugierig sind und die Neugier uns immer wieder auf neue Wege führt."

Diese Wege wollen wir weiter zusammen mit Ihnen finden und beschreiten und freuen uns auf das, was da noch kommt.
VERTRAUEN. LEISTUNG. PARTNERSCHAFT.
Ihre WE Chem Deutschland GmbH
Proud to announce we are We CHem!
Dear customers, dear suppliers, dear forwarders, dear warehouse keepers, dear service providers,

in the chemical industry everything revolves around innovations, challenges, REACH, change, digitization, sustainability, chemistry 4.0. and Covid-19.

Of course, these issues affect us just as much as you do. But today we want to inform you of equally important and exciting news with this post:
Arpadis Deutschland GmbH becomes WE Chem Deutschland GmbH [wiː kem]!

This means a lot to us! We are proud and happy that this will come true on January 1st, 2021.
One thing to say: our name will change, but our goals remain unchanged and they are getting even more into focus from now on. Together with all of you, we want to hit the ground running in these exciting times. Our team will kindly provide you with further information at any time.
Walt Disney once said: "We keep moving forward opening new doors because we're curious and curiosity keeps leading us on new paths."
We want to continue finding and treading these paths together with you and look forward to what is yet to come.
Confidence. Performance. Partnership.
Your WE Chem Deutschland GmbH
---
Funfact
Kennen Sie auch "Agathe Bauer Songs"? Nein?
Das sind Lieder, bei denen der Zuhörer etwas ganz anderes versteht, als der Künstler tatsächlich singt. Dieses Phänomen hat seinen Namen vom legendären Falschversteher zu Snap!'s Song. Da passiert es nämlich schnell anstatt "I've got the power", "Agathe Bauer" zu hören.
Wir haben hier nun einen neuen Agathe Bauer Song für Sie!
Wir können uns nicht helfen, hören Sie es auch?
..... We Chem do better...
Do you also know "Agathe Bauer Songs"?No?
These are songs in which the listener misunderstands what the artist is actually singing. This phenomenon is named after the legendary misunderstanding of Snap!'s song. Because there you quickly hear instead of "I've got the power", "Agathe Bauer".

We now want to present you a new Agathe Bauer song! We can't help ourselves, do you hear it, too?
..... We Chem do better...